Right at the start of the week I felt pretty under the weather, I came home tired and with an awful headache. I couldn't shift the headache or summon the energy to go to my weekly exercise class. But my lovely Mr had just the thing waiting for me when I came over to his house. He'd cooked dinner and told me he'd got one of my favourite films to make me feel better. He'd hit the nail right on the head when he revealed it was in fact the Disney classic
Mary Poppins.
I cannot tell you how many time I watched this film as a kid! Even now it's one of those films that always makes me smile. But now I'm older (big kid!) I love looking at all the costumes as well. My favourite being the Orange suit with pink bow tie, that Mary wears in the chimney sweep scene. From what I can find on the trusty internet the costumes for this film were credited to 3 people; Gertrude Casey, Chuck Keehne, Bill Thomas and Tony Walton.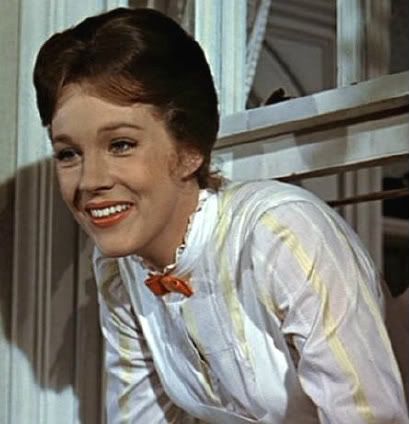 Who can forget Bert & Mary's trip in the drawing with Mary's gorgeous white dress and Bert's candy striped jacket?!
I actually read the original Mary Poppins books by P.L Travers last year, and although I enjoyed them, for me the two characters of Mary Poppins are completely different. So I think of them as separate stories. But definately worth a read if you're interested in the character.
It's also worth watching
Saving Mr Banks
that came out a couple of years ago, which tells the story behind the making of
Mary Poppins,
and the input P.LTravers had to the film. How much of it is true or exaggerated remains to be seen but I enjoyed it none the less!
Anyone else read the books or watched both films?
As always loads more pics from the film on my Pinterest Board
Disney Things
And finally a little something to put a smile on your face...
My favourite scene from the film.
Enjoy!
Em x