Hi Everyone,
Hope you had a lovely weekend!
This post is somewhat of a brag about my weekend, particularly yesterday which was one of the loveliest days out I've had in a while. I spent the day in London having some quality girl time with my Mum. Now, my Mum is my creative, arty fashion and costume buddy and always comes with me to galleries,exhibitions and events. I'm so glad we get to have these days out together because not only do we have a lovely time together, let's face it... our significant others are not going to enjoy spending hours looking at vintage dresses and nothing ruins a creative, inspirational time like the immortal words "Can we go now?"!!
Yesterday our trip to London was focused on one person, Audrey Hepburn.
My style icon and inspiration.
First port of call was the National Portrait Gallery for their current exhibition Audrey Hepburn: Portraits of an Icon.
And what a gorgeous exhibition it was too!
Carefully selected photos documenting Audrey's life from ballet school, as an emerging starlet and her later life. There are some fantastic photos, some are instantly recognisable some I had never seen before. For me it was her eyes that stood out the most in every photo, they were just beautiful.
Our final stop of the day - and the main reason for heading into the capital - was for Film4's Summer Screen at Somerset House, where they were showing the Hepburn classic
Roman Holiday,
starring Gregory Peck in his first comedic role alongside Hepburn.
According to Film4's introduction, this years showing of
Roman Holiday
was the first Hepburn film to ever be shown at their screenings, can you believe it!? As the performance sold out I'm sure it won't be the last Audrey film to grace their giant screen!
I'd only seen
Roman Holiday
once or twice before, but it really is a beautiful film. Watching it again meant I picked up on much more of the comedic lines, and appreciated the developing relationship between Hepburn & Peck's characters. I was completely drawn into this film as I watched it, I wanted to be dancing on the boat and taking scooter rides around Rome!
Image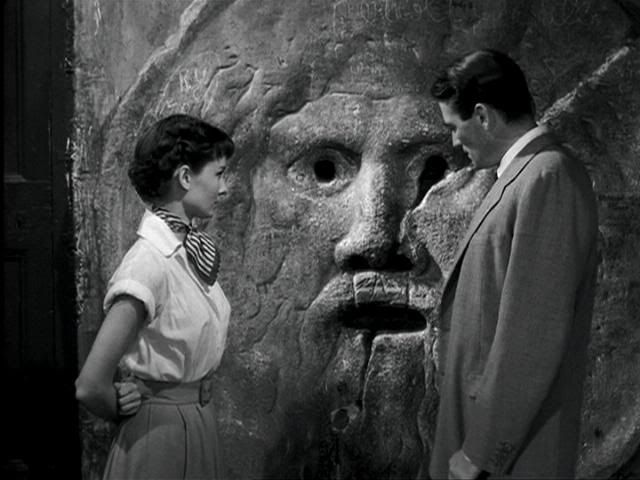 Image
Costumes for
Roman Holiday
were designed by the legendary Edith Head, winning her an Oscar in the process. I love the simple styling details of Audrey's costumes, the striped neckerchief and the cross strap ballet pumps. Such a contrast to the royal regalia her character is normally meant to be dressed in, but without looking too try hard. The clothes give off an innocent, care-free attitude which is precisely how the character of Princess Anne is.
I've loved Audrey Hepburn ever since I watched her in
Sabrina,
when I was about 13 years old. She's beautiful, graceful and elegant, yet has a cheeky charming side to her too. I think the screening yesterday has definitely pushed
Roman Holiday
up in my list of favourite Hepburn films, and due to the NPG exhibition I'm even more determined to watch some of her later films too.
Somerset House was a great place to watch the film too, luckily the weather was nice and there wasn't any rain! Though I know for next time to take a bigger pillow to sit on! I'll be keeping a eye out for Film4's Summer Screens next year too, to see what other classic movies I can take my Mum too.
As always, I've collected some lovely images using Pinterest, so take a look and view my Audrey Hepburn Pinterest Board
here
You can buy tickets to the NPG exhibition '
Audrey Hepburn: Portraits of an Icon' here
I would definitely recommend a visit!
Have a good week!
Em x